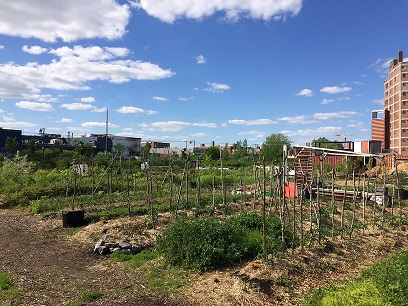 Our Garden
Located on the grounds of the University of Montreal, our vegetable garden provides us with vegetables, aromatic herbs, herbal teas and fruits for most of the year. Thanks to the work of the team and our volunteers, we make sure to increase our food autonomy by working with fresh products and by processing part of our crops to enjoy them even in winter!
---
Les Fruits Défendus
We are fortunate to collaborate with Santropol Roulant on the Fruit Forbidden project in the Parc-Extension district.
Les Fruits Defendus is Montreal's volunteer-led urban fruit harvesting collective hosted by Santropol Roulant. The initiative connects local fruit tree owners with volunteer harvesters and helps ensure that this valuable local food resource does not go to waste. After the fruit is harvested, it is divided in three between the tree owner, volunteers, and a beneficiary organization. The collective leads fruit harvests in neighbourhoods in the central part of the city, including the Plateau and Mile End, Rosemont – La Petite Patrie, Parc-Extension, and Villeray. Les Fruits Defendus aims to:
Reduce food waste
Make good use of local food and increase its accessibility
Facilitate knowledge-sharing about urban fruit harvest
---
The organic baskets: BIOLOCAUX
La Place Commune is a partner of Bio Locaux, a group of organic farms that are members of the CAPÉ cooperative and the network of Équiterre family farmers. The farmers put their efforts together to offer you the best product of the land, summer and winter. Every Wednesday between 5 p.m. and 7 p.m., find your basket delivered directly to the café!
More information about bio locaux